Welcome, & Thank You for visiting!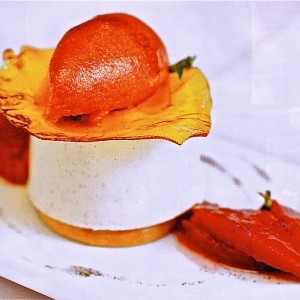 I always thought I'd be a studio artist. My Grandpa was a great watercolor painter, my Grandma is a talented printmaker, my Dad is a gifted photographer. They also love food. I'd always baked with my mother, and watched she and my grandmothers cook. Countless art classes and birthday cakes later I found myself enrolling at the California Culinary Academy in San Francisco. It had dawned on me that I could make pastry (very artistically)for a living.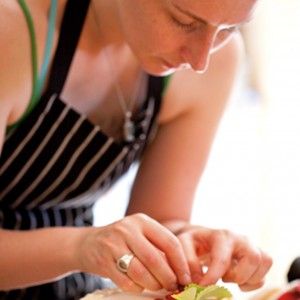 I loved being a Pastry Chef, everything about it. The crazy early and crazy late hours. The learning new things and mentoring a team. Creating and evolving a menu was a lot of fun for me- like a puzzle. I'm currently taking a "break" (in quotation marks because as anyone knows raising kids is no break) from the kitchen, to raise my daughter and son. I'm also currently curating Vintage Collections for a couple restaurants in the LA/OC area.
My goal with this blog is to share recipes and tidbits from my life in kitchens. I'd like to share recipes that are accessible for everyone no matter their experience, tools, or financial situation. I'd like to do some really healthy stuff, followed by some really decadent stuff. I may not post very often, but rest assured all the recipes &thoughts are tested.
I welcome your feedback, questions, comments, and conversation. The best way to reach me is through email at koa@koaduncan.com. I'm unable to read all of the comments people leave here due to volume &spam. All of the recipes and pictures on here are mine, so please don't steal- if you'd like to use something please ask me.
Check out my Etsy Shop, Cakeboxvintage. I sell lots of fun vintage kitchen related items, aprons, cookbooks, dishes… www.etsy.com/shop/cakeboxvintage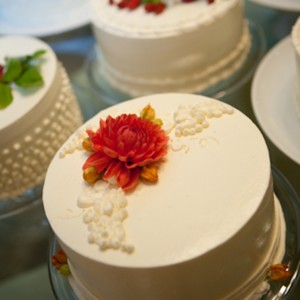 Professional Experiences:                                                                                                                                                                                                                                                          
Delfina, S.F.- Pastry Chef  2007-2009
Boulette's Larder, S.F.- Pastry Chef  2007
Consulted for Tres Agaves, S.F. and Cafe Cacao, Berkeley on their dessert programs 2007
Water Grill, L.A.- Pastry Chef  2005 &2006
Bastide, L.A.- Pastry Chef  2002-2005
Four Seasons, Beverly Hills- Assistant Pastry Chef  2000-2002
Maple Drive, Beverly Hills- Pastry Sous Chef  1999 &2000
Real Food Daily, W. Hollywood &S.M.- Pastry Chef  1996-1999
One Market Restaurant, S.F.- Pastry Cook 1995&1996
Professional Achievements:
Short listed by the James Beard Foundation (top ten Pastry Chefs in the country) in 2006
Pastry Chef of the Year- Angeleno Magazine 2005
Recipes featured in LA Times, Food &Wine Magazine, &Star Chefs Website
Contributed a Recipe to Melissa Clark's Cookbook: "Chef, Interrupted"
Bastide Restaurant included in Best New Restaurants 2003- LA Magazine
Bastide Restaurant awarded 4 stars from the LA Times 2002
Graduated from California Culinary Academy in 1994