This beautiful cake would be a great addition to anyone's repertoire. It's a sour cream pound cake recipe that I've changed a bit and added a struesel-ish chocolate cinnamon center.
Make it for dessert or leave the icing off of it and serve it for breakfast.  It has a fantastic shelf life & tastes even better a day later.  Wrapped well it could easily last 3 or 4 days.
I use a big bundt pan, 10 inches across, 3 1/2 inches tall, You could make 2 small loaves if you'd like (obviously baked less). Try it!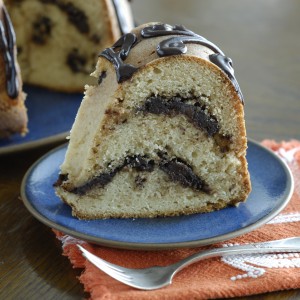 The Aztec Cake
-ingredients for the cake:
8 oz butter- room temperature
14 oz granulated sugar
4 eggs- large, at room temperature
16 oz (full fat)sour cream- room temp. as well
2 Tb tequila(anejo is best- whatever you have) or vanilla extract
13 oz all purpose flour
2 oz whole wheat flour (you can use all ap- if you don't have whole wheat)
1 tsp baking soda
2 tsp salt
-ingredients for the center chocolate mixture:
3 oz melted butter- not too hot
1/8 tsp freshly ground black pepper
6 oz brown sugar
1 oz unsweetened cocoa powder
2 Tb ground cinnamon
1 big pinch salt
6 oz chopped (fine)bittersweet chocolate
-ingredients for the chocolate icing:
2 oz water
3 1/2 oz granulated sugar
1 oz honey
big pinch salt
1 oz cocoa powder
1 1/2 bittersweet chocolate- chopped fine
1 oz tequila
First preheat your oven to 325 F. Spray or butter, then flour a bundt pan (10 inches across) or 2 average sized loaf pans. Set aside.
To make your chocolate center:
In a medium sized bowl-mix together all your ingredients, mixing in your chopped chocolate last. Set aside.
To make your cake:
In a medium sized bowl- whisk together your dry ingredients (flours, baking soda, salt) &set aside.
Place butter &sugar into your mixer bowl, using the paddle attachment. Mix to combine. Add eggs one at a time, scraping just until incorporated. Add sour cream &tequila, scraping, then add your dries from the other bowl (scraping)
Take your bundt pan and pour in 1/3 of your batter, spreading with a small spatula or spoon. Divide your chocolate mixture in 2, and sprinkle one half evenly over the batter- keeping it in the center (so when it bakes it will stay in the center and not touch the sides of the pan) Then pour/scrape &smooth in 1/3 more batter, spreading again evenly to cover the chocolate. Repeat the sprinkling with the other half of the chocolate mixture, and then add your final 1/3 of the cake batter- spreading well again.
Bake for 60-70 minutes or until a skewer/toothpick comes out clean. Set it aside to cool halfway- and then pop it out &let it cool the rest of the way.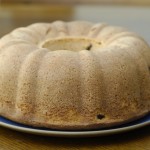 While the cake is cooling- make the icing.
In a small pan- place your water, sugar, honey, &salt. Bring to a simmer and add your cocoa powder, whisking and cooking a couple minutes until thicker. Take off the heat and add your chopped chocolate- let sit for a minute and then whisk it together just until smooth. Add your tequila and whisk smooth.
Let cool for a few minutes, until it thickens up a little and you can pipe it in a piping bag (or you can drizzle it with a small spoon)
Put your cake onto a great serving plate and pipe/drizzle the icing on top (see the picture- pipe some cool designs, random squiggles, or just drizzle)
Let the icing set for a few minutes, then cut it and serve.
Or, if you're going to wrap it- wait a little while longer so the plastic doesn't stick to the icing.
This cake is very large- you could get 10 big slices, or squeeze out 20 slivers.
It is really great on it's own, but you could add ice cream, whipped cream, or creme anglaise to put it over the top.
Enjoy!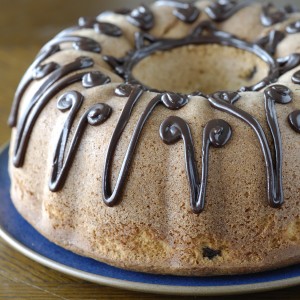 Koa
, All rights Reserved. Written For:
Koa Duncan